Infortrend Announces a Strategic Value-Added Distribution Partnership for the South Asia Region Enterprise Storage Market with Supertron VAD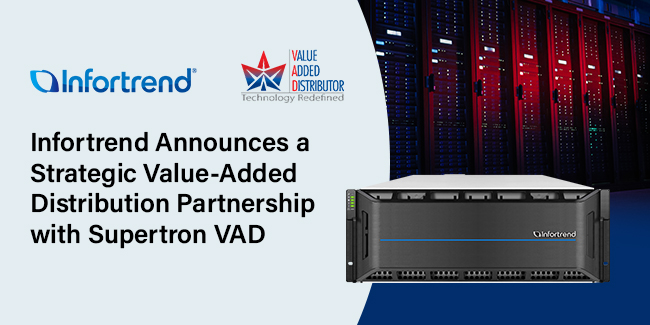 Taipei, Taiwan – October 3, 2023 – Infortrend® Technology, Inc. (TWSE: 2495), the industry-leading enterprise storage manufacturer, today announced the signing of a contract confirming a strategic distribution partnership with Supertron VAD Venture, one of the fastest-growing VADs in the Indian, Asian, and Middle East markets. This partnership will cover the entire South Asia Region, offering organizations cutting-edge enterprise storage solutions, featuring unmatched performance and high availability.
Supertron VAD is known for its extensive range of innovative and technologically advanced products from globally recognized brands, along with its innovative solution-centric strategic approach. Infortrend and Supertron are collaborating to provide organizations in the South Asia region with Infortrend's flagship solutions:  enterprise unified storage EonStor GS and EonStor DS SAN storage. The partnership aims to ensure the highest level of client satisfaction and reliable after-sales services, as well as share both companies' expertise on surveillance, backup, database, and cloud applications.
"We are excited about our new strategic VAD partnership agreement with Infortrend, one of the most renowned brands in the enterprise storage market. We believe this marks the beginning of a fruitful, long-term partnership to provide Infortrend's solutions to both our existing and new partners across the South Asia region. Continuous cooperation will propel both companies into a business ecosystem of mutual growth and benefits," said Debraj Dam, Chief of Supertron Value-Added Distribution Venture.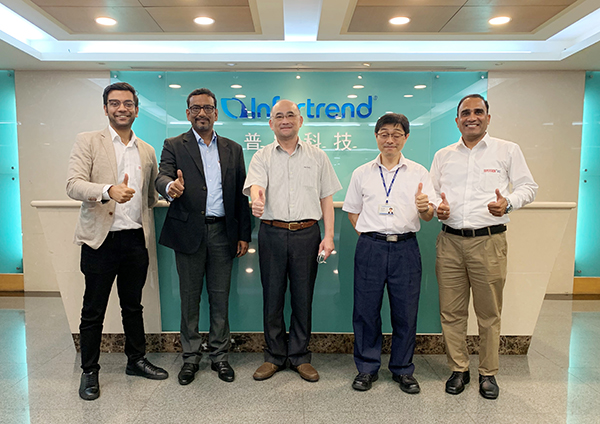 Photo (left to right): Vipul Bhandari: Chairman Office of Supertron VAD; Debraj Dam: Chief of Supertron VAD; Wilson Sung: Senior Director at Infortrend; Alfred Lee: Senior Sales Director at Infortrend; B. Rajesh: Product Business Owner – Storage at Supertron VAD
"We are thrilled to join forces with Supertron VAD to enhance the accessibility of our innovative storage offerings for enterprises in South Asia. Their expertise in distribution and shared values of customer satisfaction make them an ideal partner as we continue to push the boundaries of storage technological advancements," said James Chang, Sales Manager of Pan Asia Division at Infortrend Technology.
Infortrend® and EonStor® are trademarks or registered trademarks of Infortrend Technology, Inc.; other trademarks are the property of their respective owners.
Contact:
Infortrend Technology, Inc.
Hannah Chen
E-mail: hannah.chen@infortrend.com