Co-sponsored the recent IT Cup and Award night organized by CONFED and CAMS Madurai
12th Oct 2023, Madurai |
Geonix International, the fast-growing IT Components and peripherals brand from Delhi, is now making a strong foray into the sizeable Tamil Nadu market. After considerable success in the North Zone over the last decade or so, Geonix is showing the ICT fraternity that it is greatly committed to the Southern market, with a new strategic Zonal Office and logistics hub in Bengaluru, which caters to all 5 southern states.
Geonix was co-sponsor of the mega CONFED IT Cup cricket extravaganza, featuring teams from 24 districts of the state, and organized in grand fashion by CAMS (Computer Association of Madurai Society). Spearheaded by Saravanan Ramdoss, Mayil Vahanan, Senthil Kumar, and other experienced ICT businessmen, CAMS has always pioneered Dealer-related social and fraternity-building events. The cricket contest began early morning on Saturday and ran through the day until late evening. Over 400 players (i.e. Dealers) gave their best in an enthralling contest featuring many great cricketing performances. A magnificent Award Night was held from 7 PM onwards, held at a grandiose resort, a few miles outside Madurai city. In total, over 450 IT business persons attended the day-long event, which had a very affable, festival-like atmosphere.
Figure 1: Pre-contest opening ceremony of CONFED IT Cup, co-sponsored by Geonix
Genoix had a large Kiosk Stall at the sports ground, and another stall at the Award Night venue. The stalls showcased many products from Geonix, which has a significantly large product range now. Visitors got the chance to get a feel of Geonix's famed storage products – SSD Sata, SSD NVME, SSD M.2, Hard Drives, and Surveillance-specific HDD. Also on display were the selling product lines of Geonix Motherboards, Graphics cards, RAM modules, TFT LED Monitors, and many more. Senior members from Geonix Headoffice in were present at the event and supported the local Sales Team in giving better product knowledge to dealers.
CAMS and CONFED presidents felicitated the Geonix team. In turn, while speaking on stage, Geonix seniors expressed their commitment to the TN market and assured all dealers of unstinted support wherever possible. This means support in terms of Sales, Marketing, service support, logistical support, and assistance in obtaining better and deeper, product or technical knowledge.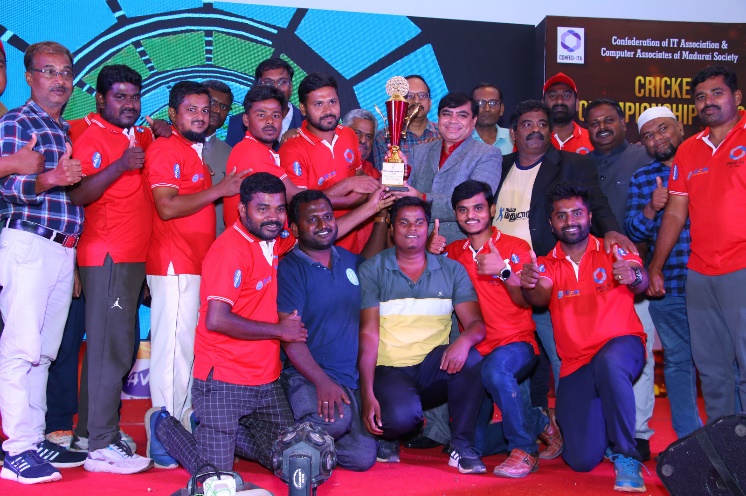 Figure 2:Geonix officials conferring the trophy
Three days after the cricket event, the Geonix team conducted another Dealer Meet specially for CAMS Madurai dealers, where there was more time to talk about products in detail. Geonix offered a deep dive into a number of trendy products including Geonix's popular Thin Client, and the company's latest release, 5G 'Router cum Extender'. A special offer was announced for Madurai dealers and appreciated by all.
Marketing Head, Saurabh Dey, explained to both peers and the press, "Geonix is the quintessential Dealer's brand! We strive to have a very deep bond with the dealer/distributor community. We are very committed to the South Zone, so we have plans to conduct similar or bigger Dealer Conventions in the South Zone in early 2024. Although the itinerary is not final, we may have conclaves in major cities like Bangalore, Chennai, Mangalore and Hubbali".