'Consumers can choose from a wide range of AI-enabled routers depending on their Wi-Fi needs – starting from R03 & R04 (Wi-Fi 4 Router), R12 (Wi-Fi 5 Router) and M15 &R15 (Wi-Fi 6 Router)'
D-Link, a global pioneer in networking and connectivity technologies had some time back introduced its flagship router series – 'EAGLE PRO AI' in India. With a gamut, of rich features D-Link 'EAGLE PRO AI' series encompasses R03 & R04 (Wi-Fi 4 Router), R12 (Wi-Fi 5 Router), and M15 & R15 (Wi-Fi 6 Router).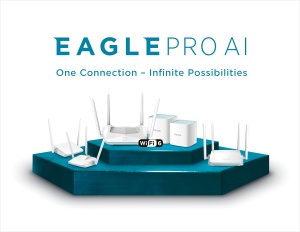 Residents have taken learning, office, and entertainment online throughout the day and into the evenings, transforming their homes into multi-tasking centers. The EAGLE PRO AI series from D-Link optimizes home wireless networks by delivering robust, high-quality online experiences in device-dense homes. Home Wi-Fi is now combined with artificial intelligence (AI) in the EAGLE PRO AI series.
D-Link's EAGLE PRO AI series provides not only exceptional Wi-Fi coverage and speed but also ensures that the network is constantly optimizing and upgrading, making it suitable for home users and small businesses.
AI Parental control lets parents designate online hours, restrict website access, etc.
AI Wi-Fi Optimizer continuously scans and monitors the network to keep users connected to the best and cleanest Wi-Fi channels.
AI Traffic Optimizer automatically allocates bandwidth to different applications for the best connectivity. It informs users which activities are causing congestion and allows them to de-prioritize.
The EAGLE PRO AI App features an embedded SpeedTest to check Internet speed and an exclusive Health Mode function allowing households to schedule internet access, keeping family members offline during specific times to maintain a balanced family lifestyle, and turning off Wi-Fi entirely to conserve energy.
 AI Assistant feature in the EAGLE PRO AI app collects internet performance information over time and then sends detailed reports. This allows users to intelligently monitor network usage with simple actionable recommendations to keep network performance at peak for everyone in the family.
D-Link under its EAGLE PRO AI Series flagship offers multiple variants of Routers, thereby allowing Home/ SOHO users to choose a Router depending on their usage and budget:
M15: AX1500 Mesh System (Pack of 2)
R15: AX1500 Smart Wi-Fi Router
R12: AC1200 Smart Router
R04: N300 Wi-Fi Router (3 antennas)
R03: N300 Wi-Fi Router
For more details on D-Link, EAGLE PRO AI Series visit https://in.dlink.com/en/eagleproai
For more information on D-Link:
Visit in.dlink.com  और Connect at https://in.linkedin.com/company/d-link-india-limited
For media inquiries, please contact: –
Ms. Divya Shetty
Head – Marketing &Communication, D-Link (India) Limited
E-mail:  divya.shetty@in.dlink.com
Phone: +91-9004672817