Delivers an incredibly high refresh 1440p gaming and streaming experience.
August 2023 – GIGABYTE TECHNOLOGY Co. Ltd, a leading manufacturer of premium gaming hardware, today announced the new AMD Radeon™ RX 7800 XT and RX 7700 XT graphics cards powered by the high-performance, energy-efficient AMD RDNA™ 3 architecture – the GIGABYTE Radeon RX 7800 XT GAMING OC 16G and Radeon RX 7700 XT GAMING OC 12Ggraphics cards, which will be available for purchase on September 6, 2023. The GAMING OC graphics card, a classic and popular graphics card from GIGABYTE, focuses on exceptional performance and stability. It features a black design with gaming elements to adapt to various PC build styles. In addition, each graphics card is perfectly tuned with powerful performance and excellent heat dissipation, bringing gamers ultra-fast, ultra-smooth gaming performance at 1440p.
| | |
| --- | --- |
| GIGABYTE Radeon RX 7800 XT GAMING OC 16G | GIGABYTE Radeon RX 7700 XT GAMING OC 12G |
The GIGABYTE Radeon RX 7800 XT GAMING OC 16G and Radeon RX 7700 XT GAMING OC 12G graphics cards both offer the WINDFORCE cooling system. The system includes three unique blade fans with alternate spinning, a copper plate that directly contacts the GPU, composite copper heat pipes, 3D active fans, and screen cooling to maximize heat dissipation so that the graphics cards deliver energy efficiency and high performance. The alternate spinning technology rotates the central fan in the opposite direction of the other two fans, effectively dissipating heat from both the top and the bottom of the graphics card for more efficient cooling. The large copper plate makes direct contact with the GPU and VRAM; coupled with the composite copper heat pipes, it achieves superior heat dissipation. Moreover, the handy onboard dualBIOS switch allows users to choose between OC and SILENT modes, offering the optimal settings tuned by GIGABYTE.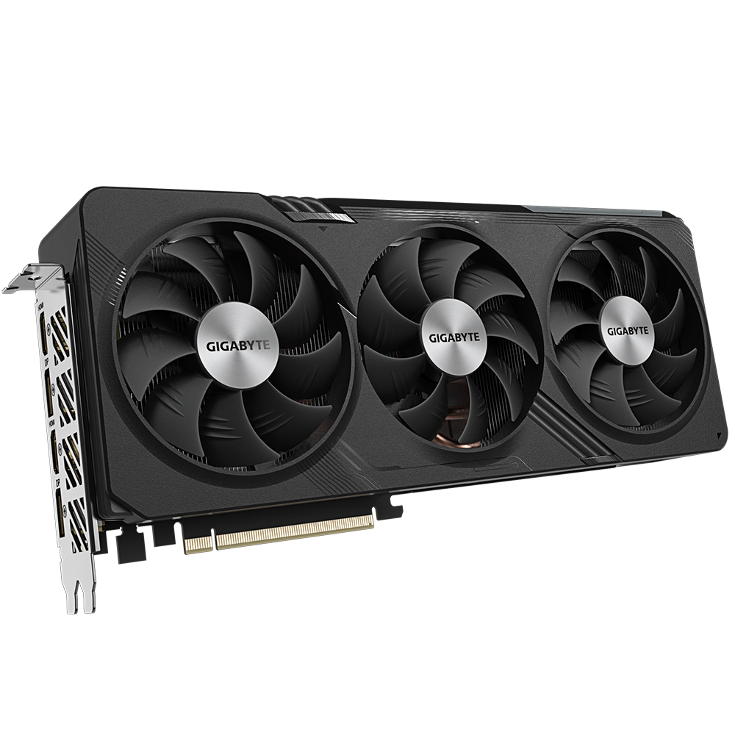 The GAMING OC product line also features RGB lighting on the side of the graphics card that can be customized through the GIGABYTE CONTROL CENTER (GCC) software. The upgraded metal back plate brings a more durable structure that prevents bending and damage. The ULTRA DURABLE certified high-quality materials, such as all-solid capacitors, metal chokes, and low-resistance MOSFETs, provide excellent performance and a longer lifespan.
For more details, please visit the official GIGABYTE website: https://www.gigabyte.com/Graphics-Card/
Please visit https://www.gigabyte.com/ for more information.